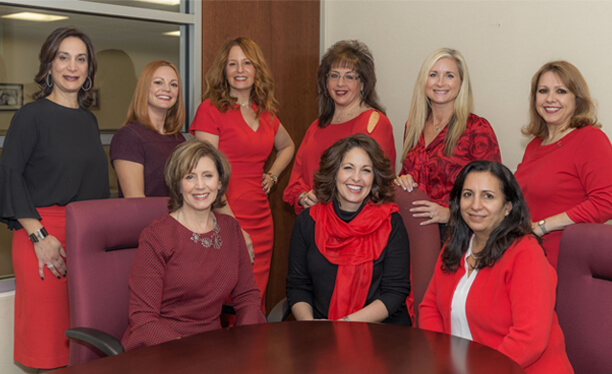 Woodbury, NY, January 15, 2018 –– The Long Island American Heart Association has announced that the Women of Sterling will serve as honorees at its 17th Annual Go Red for Women Luncheon, scheduled for February 28, 2018, at the Crest Hollow Country Club in Woodbury, NY. A leading fundraising event for the American Heart Association, the Go Red for Women Luncheon brings together female leaders from throughout the community to help in the fight against heart disease and heighten awareness of heart issues facing women.
Headquartered in Woodbury, NY, SterlingRisk Insurance is one of Long Island's largest independent insurance brokers. According to SterlingRisk COO Marci Waterman, who is among the nine SterlingRisk honorees, the company has a long history of supporting health-related education and causes.
"In addition to assisting clients with managing healthcare risks and exposures," she explains, "SterlingRisk encourages its own employees to be more mindful of their health and wellness. Each of the SterlingRisk women being honored is committed to creating awareness about heart disease, especially as it pertains to women, and looks forward to raising funds for Go Red for Women."
SterlingRisk CEO David Sterling added, "Our overall concern for employee wellbeing led to SterlingRisk's close partnership with the American Heart Association and the Go Red for Women campaign. We encourage everyone to get involved, learn what can be done, and generously support the upcoming Go Red for Women Luncheon. I am very proud of the Women of SterlingRisk and of our organization's commitment to this important cause."
The SterlingRisk women named as Go Red Honorees represent a cross-section of professionals within the organization's ranks. In addition to Waterman, they include Donna Raab, Chief Talent Officer; Joanne Krush, Chief Financial Officer; Jillian Menna, General Counsel; Maryalice Nazaretian, President of Employee Benefits; Erin Sussman, Senior Attorney; Gina Murphy, Personal Lines Manager; Angela DeChiara, Director of Commercial Lines; and Evelyne Caloras, Executive Assistant.