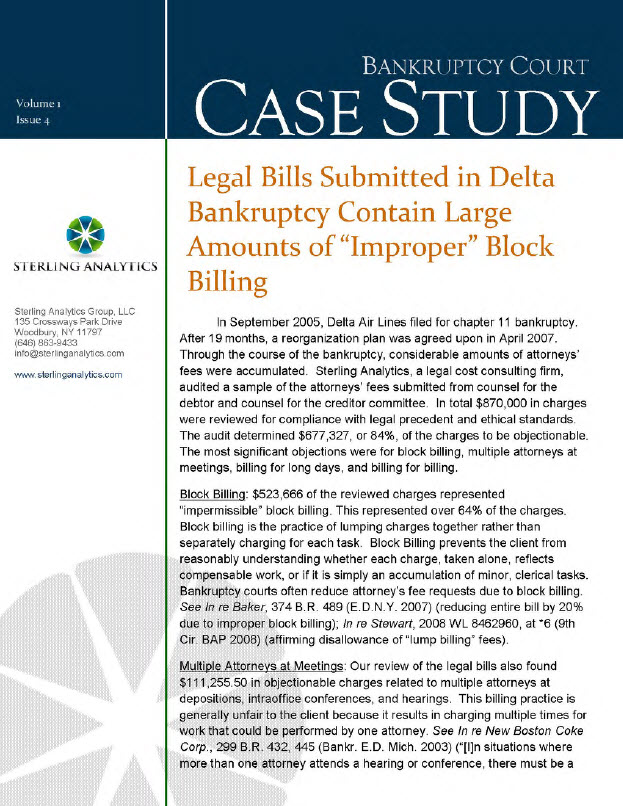 (Volume 1, Issue 4)
In September 2005, Delta Air Lines filed for chapter 11 bankruptcy. After 19 months, a reorganization plan was agreed upon in April 2007. Through the course of the bankruptcy, considerable amounts of attorneys' fees were accumulated. Sterling Analytics, a legal cost consulting firm, audited a sample of the attorneys' fees submitted from counsel for the debtor and counsel for the creditor committee. In total $870,000 in charges were reviewed for compliance with legal precedent and ethical standards. The audit determined $677,327, or 84%, of the charges to be objectionable. The most significant objections were for block billing, multiple attorneys at meetings, billing for long days, and billing for billing.
Block Billing: $523,666 of the reviewed charges represented "impermissible" block billing. This represented over 64% of the charges. Block billing is the practice of lumping charges together rather than separately charging for each task. Block Billing prevents the client from reasonably understanding whether each charge, taken alone, reflects compensable work, or if it is simply an accumulation of minor, clerical tasks. Bankruptcy courts often reduce attorney's fee requests due to block billing. See In re Baker, 374 B.R. 489 (E.D.N.Y. 2007) (reducing entire bill by 20% due to improper block billing); In re Stewart, 2008 WL 8462960, at *6 (9th Cir. BAP 2008) (affirming disallowance of "lump billing" fees).
Multiple Attorneys at Meetings: Our review of the legal bills also found $111,255.50 in objectionable charges related to multiple attorneys at depositions, intraoffice conferences, and hearings. This billing practice is generally unfair to the client because it results in charging multiple times for work that could be performed by one attorney. See In re New Boston Coke Corp., 299 B.R. 432, 445 (Bankr. E.D. Mich. 2003) ("[I]n situations where more than one attorney attends a hearing or conference, there must be a showing that each attorney contributed to the hearing or conference."). Bankruptcy courts have held that one only attorney should be used in these situations. See In re Dimas, LLC, 357 B.R. 563, 579 (Bankr. N.D. Cal. 2006) ("Normally, it is appropriate for only one attorney from a firm to attend a meeting, conference, or hearing.").
Billing for Long Days: Billing for double digit hours in one day is questionable and usually excessive. In the reviewed bills, $16,198 in charges represented days exceeding 10 hours. Bankruptcy courts have reduced attorney fee requests due to billing for long days. See In re New Boston Coke Corp., 299 B.R. 432, 448 (Bankr. E.D. Mich. 2003) ("Except in unusual circumstances it is not realistic for an attorney to bill in excess of six to seven hours per day . . . . While it is certainly possible that an attorney could bill ten-, nineteen- or twenty-hour days, it is unlikely that all of that billed time is compensable.").
Billing for Billing: A client should not be billed for time spent maintaining or creating billing records, or for reviewing or discussing such records. $15,148.50 of the audited bills consisted of "improper" charges for preparing and reviewing bills. Bankruptcy courts have held that these types of charges are not compensable. See In re Dimas, LLC, 357 B.R. 563, 591 (Bankr. N.D. Cal. 2006) (finding the time applicant expended to review and edit its time records was not compensable).
* In re Delta Air Lines, Inc., et al.
By Nicholas Paslow